The RBMS Awards Gala Dinner is on again! This night to remember will be held on Friday 11 November 2022 on Wurundjeri land at the amazing Leopard Lodge, Melbourne Zoo, Parkville.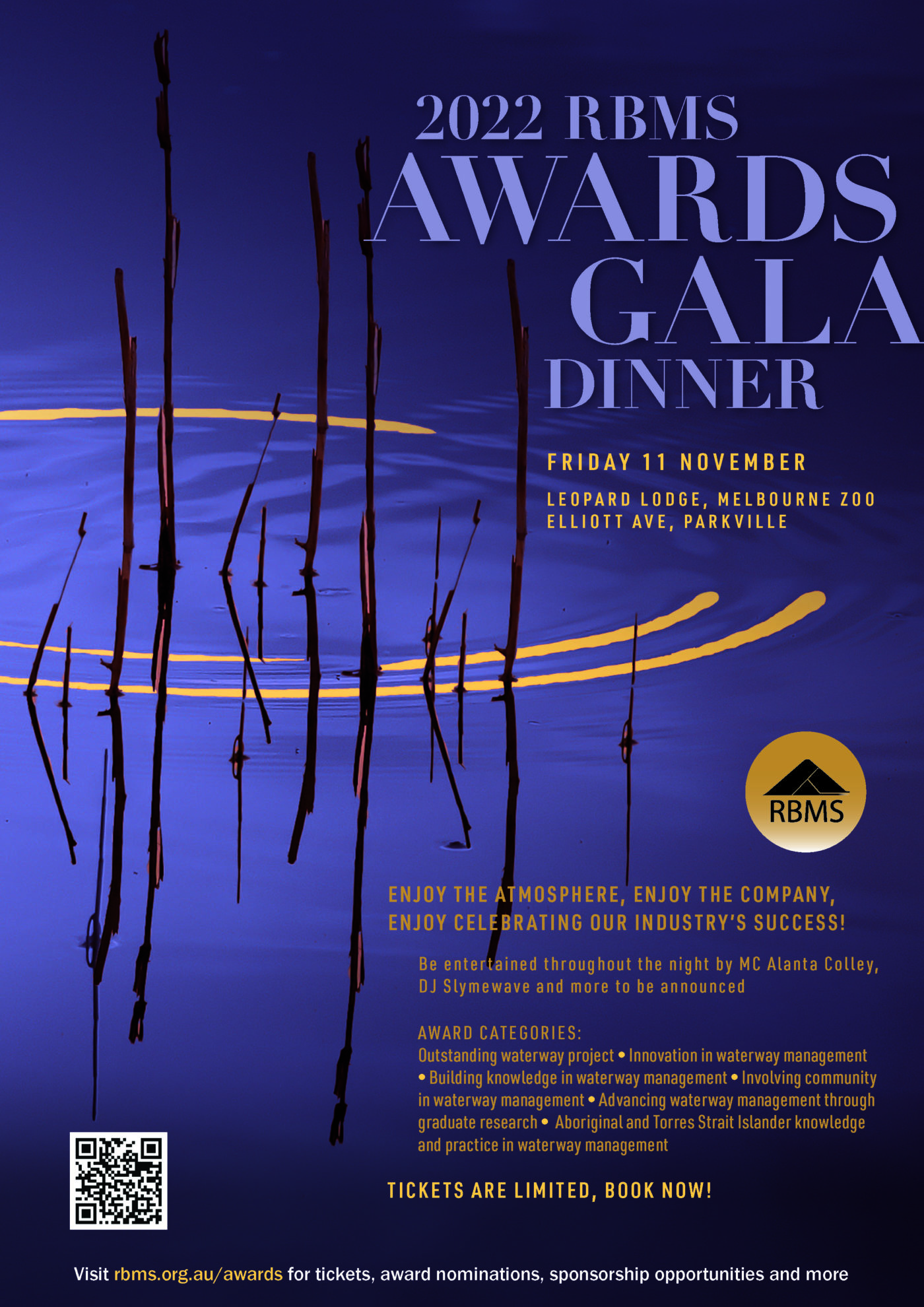 We acknowledge the deep and ongoing connection of the Wurundjeri people of the Kulin nation to this land and its waters, and their ongoing custodianship of it. We pay our respects to their Elders, past, present and emerging.
Book now!
Early-bird pricing available until 9 September 2022.
Sponsorship opportunities available
Become a sponsor of this unique industry Awards Night and receive great benefits. Click here for a copy of the sponsorship prospectus.
Awards
Award nominations are now open! We are seeking diverse entries that focus on waterway management and specifically those that embrace indigenous waterway knowledge and practice or incorporate community involvement, research, or innovation to achieve greater outcomes both culturally and environmentally.
Our categories this year are:
Outstanding waterway management project
Innovation in waterway management
Involving community in waterway management
Building knowledge in waterway management
Advancing waterway management through graduate research
Aboriginal and Torres Strait Islander knowledge and practice in waterway management
The award nomination submission form is available here.
A nomination guide containing information to help you prepare your submission can be found here.
Nominations close at 5pm Friday 9 September 2022. The recipient for each award will be announced on the night of the awards.
Entertainment
We have the hilarious Alanta Colley joining us again for the evening. This year Alanta will be accompanied by an up-and-coming science communicator from Let's Torque.
Relax, party, or dance to the tunes spun by DJ Slymewave throughout the evening. DJ Slymewave brings the good times for all ages – spinning local artists, the heroes of yesteryear, and anything else that sounds good by the water. Also known as Jo Syme, she's the co-owner of Melbourne label Pieater and one half of award-winning musical duo Big Scary.
More entertainment details to come!
Recovery Yarra River paddle
November 12th – 10am
Enjoy the thrill of the rafting on the scenic and tranquil Yarra River in Warrandyte. You will paddle through stunning mini gorges and valleys filled with native bush land and wildlife. You will feel as though you are in a completely remote location, away from the hustle and bustle of city life. The river is fantastic all year round and especially throughout the spring months with higher rainfall and bigger rapids. Let us know if you are interested here.
Don't forget to stay connected through for updates about the event through Facebook and Twitter.