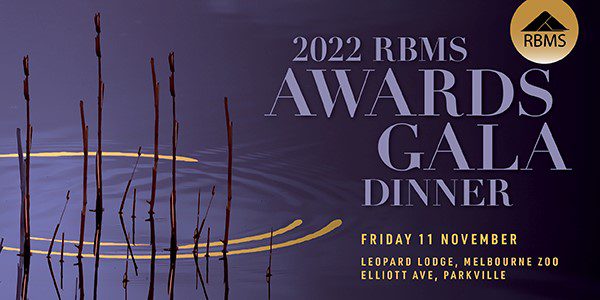 We celebrated the 2022 RBMS Awards Gala Dinner on Friday 11 November 2022.
Held at the Leopard Lodge at Melbourne Zoo, we brought together over 170 people to recognise and celebrate the incredible work that is done in our industry. We acknowledge the deep and ongoing connection of the Wurundjeri people to the Country where we held the awards, and their ongoing custodianship of it. We pay our respects to their Elders, past, present and emerging. We thank Mandy Nicholson and Djirri Djirri for reminding us to come with purpose onto Country and sharing their dances.
Government departments, consultants, community groups, Traditional Owner groups and universities were all represented and their contributions to waterways and catchment management and caring for country were recognised.
For the first time, we asked you to choose your favourite nominations, and awarded a People's Choice in each category. We were blown away with the amount of support it got, with over 300 unique votes in some categories.
Special thank you to:
Everyone who nominated and their supporting organisations and partners
The Awards Gala committee – chair Kathy Russell, judging coordinator Alison Miller with the amazing support of Ben Pearson, Rhiannon Hughes, Janice Taylor, Penny Rogers, Jacqui Lloyd and the 2021-22 RBMS committee.
The judging panel – Sonia Cooper, Brad Moggridge, Ian Rutherfurd, Lance Lloyd, Emma O'Neill, Rhiannon Hughes, and David Reid
Event sponsors  – Streamology, GHD, Jacobs, Melbourne Water, RMCG, ALS, Alluvium, and Water Technology, as well as media support from NRM jobs and the Australian River Restoration Centre
Event partners – Jade Pearce from Evise, MC Alanta Colley, speaker Georgina Aiuto from Let's Torque, and Djirri Djirri.
We want to recognise all the nominations we received, which you can view here.
Photos from the night are available here.
Photos: Daniel A'Vard
The GHD Award for
Aboriginal and Torres Strait Islander Knowledge and Practice in Waterway Management
We were reminded on the night by judge, award presenter and proud Yorta Yorta woman Sonia Cooper that, "Where traditional knowledge jurisdiction is concerned it competes with no one".  The judging panel for this category, made up entirely of Traditional Owners, recognised all the nominations as excellent examples of application of Traditional Knowledge on Country. Each project was culturally diverse with a clear impact on connecting culture to land. Water management, building capacity and partnerships were interweaved with Traditional Owner knowledge and ways of doing. A special congratulations to Healing Geboor through Wurundjeri Wiiñ for taking home the award.
Winner – Healing Geboor through Wurundjeri Wiiñ
Melbourne Water, Wurundjeri Woi-wurrung Narrap Unit, Forest Fire Management Victoria – Department of Land Water and Planning, Parks Victoria
A collaboration between the Wurundjeri Woi-wurrung Narrap Unit and Melbourne Water to deliver a multi-year restoration project of the headwaters of Riddells Creek. The Narrap Unit have played a lead role in the scoping, methodology, delivery and monitoring of this project. Click here for more info.
Finalist and People's Choice – Building capacity and Healing Country through Bushfire Recovery
Gunaikurnai Land and Water Aboriginal Corporation, Victorian Department of Environment, Land, Water and Planning (DELWP), Parks Victoria, GHD Pty Ltd
GLaWAC created a dedicated Bushfire recovery crew working across Country, monitoring the impacts of fire and the recovery of species that are significant for our culture and our people. With support of Elders and ecologists, the crew gain knowledge of Country and shape land management practices. Click here for more info.
Finalist – Healthy Coorong, Healthy Basin – First Nations Partnerships Project
Department for Environment and Water, Ngarrindjeri Aboriginal Corporation, South East Aboriginal Focus Group (through the Burrandies Aboriginal Corporation)
The Healthy Coorong, Healthy Basin First Nations Partnerships Project established best practice partnerships with Ngarrindjeri and First Nations of the South East to ensure long-term management solutions for the Coorong are designed with First Nations to protect and promote culture and heritage. Click here for more info.
Finalist – The Central & Gippsland Sustainable Water Strategy Traditional Owner Partnership
Department of Environment Land Water and Planning, Bunurong Land Council Aboriginal , Gunaikurnai Land and Waters Aboriginal Corporation, Wadawurrung Traditional Owners Aboriginal Corporation, Wurundjeri Woi-wurrung Heritage Council Aboriginal Corporation
The Sustainable Water Strategy was developed in partnership with  the Gunaikurnai, Bunurong, Wadawurrung & Wurundjeri Woi-wurrung Traditional Owners. The Partnership sought to realise cultural objectives & amplify First Nations People's voice through a restorative justice approach. Click here for more info.
Finalist – Partnering with Traditional Owners to Restore Birarrung Billabongs
Melbourne Water, Wurundjeri Woi-wurrung, Narrap Rangers Unit, The University of Melbourne
Urban billabongs are sites of high ecological and cultural value, yet are often highly degraded. This project seeks to restore billabong health through improved watering regimes with ecological responses monitored by Traditional Owners. On Country knowledge sharing informs billabong management. Click here for more info.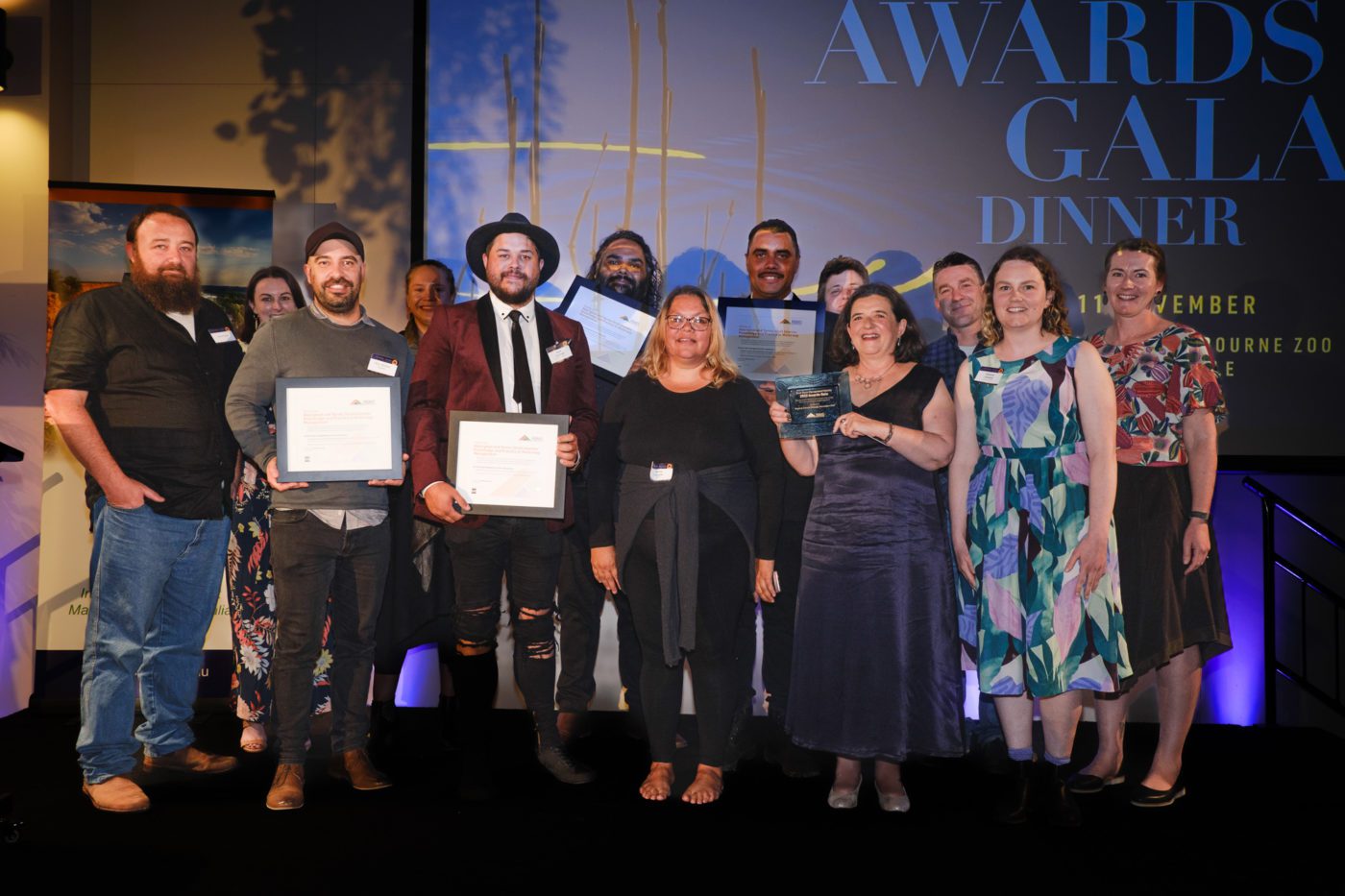 Involving community in waterway management
Winner – Heyfield Wetlands: a story of community turning a wasteland into a showcase
Heyfield Wetlands Committee of Management, Gippsland Lakes Coordinating Committee (GLCC), Heyfield Lions,
West Gippsland CMA (WGCMA), East Gippsland CMA (ECGMCA), Gippsland Water, Southern Rural Water, Victorian Environmental Water Holder (VEWH)
This is the success story of a passionate community with infectious enthusiasm. The Heyfield Wetlands Committee harnessed enormous community support to create a treasured local space and ecological asset. After decades of work to restore and now water the wetlands, the wetlands are flourishing. Click here for more info.
Finalist and People's Choice – Government science providing scientific foundation to direct Citizen Science program
NSW Government Department of Planning and Environment and OzGREEN, Bellingen Shire Council, Vincent Fairfax Foundation, Healthy North Coast
Community response to critically endangered turtle population initiates NSW Gov to develop a long-term community-government-based river monitoring program. Resulting in the development of the Bellingen Riverwatch citizen science monitoring program in conjunction with a Gov monitoring program. Click here for more info.
Finalist – Small fish, big impact – partnering to recover threatened fish in urban waterway
North Central Catchment Management Authority, City of Greater Bendigo, Native Fish Australia, Australia New Guinea Fishes Association
A strong partnership between government, native fish groups, 10 community groups and 20+ landholders has created breeding programs; enhanced habitat in urban waterways; established thriving populations of two Threatened fish species; and raised public awareness about their threats and conservation.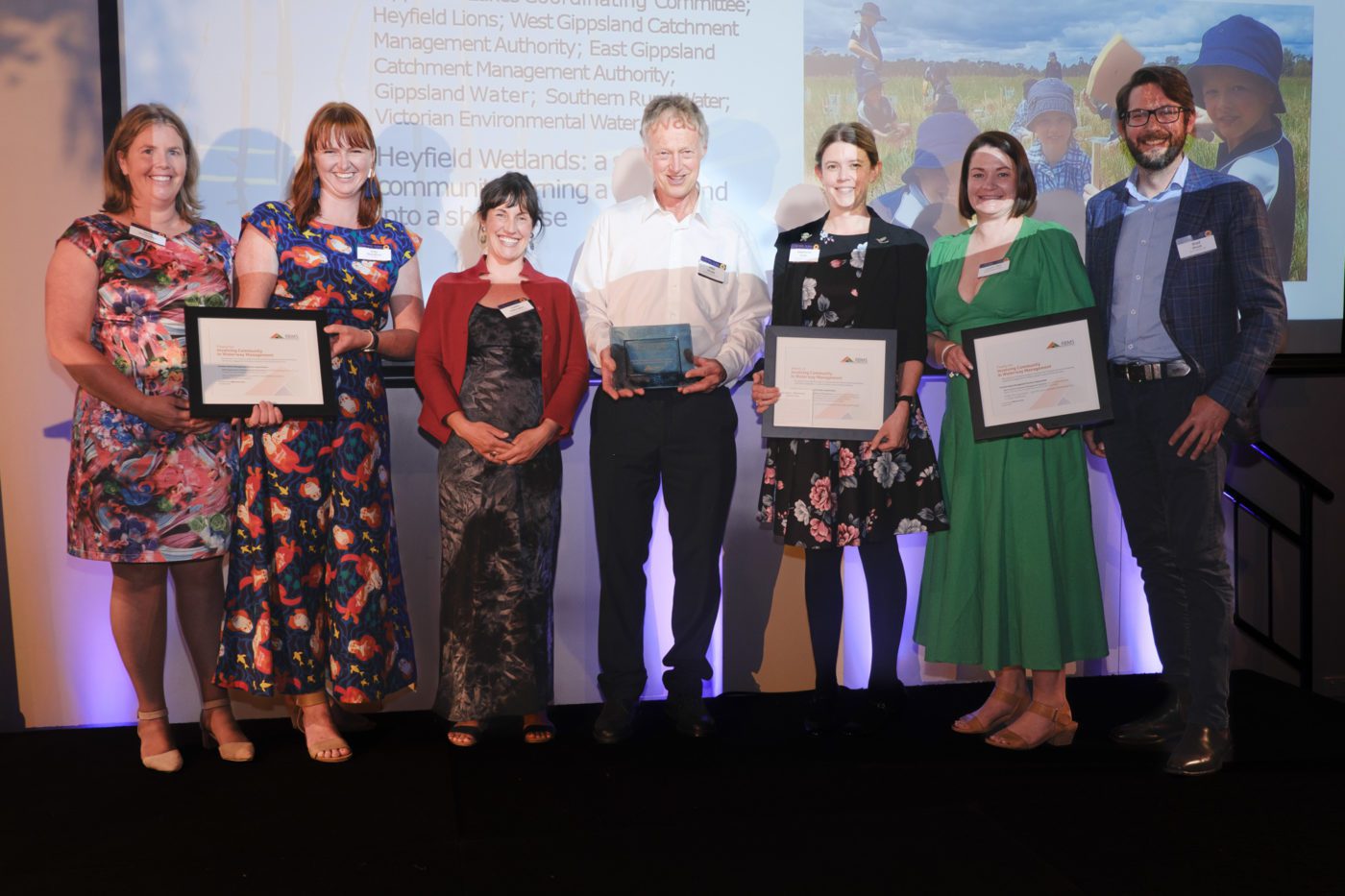 Advancing waterway management through graduate research
Winner – Improving knowledge of geomorphology and river diversion design in the Pilbara
Alissa Flatley, University of Melbourne
Alissa's PhD graduate research investigated river diversions, a widely underrecognized human impact on rivers. Alissa's research created the first comprehensive geomorphic study of headwater channels in the Pilbara, generating a series of guideline hydraulic values for different channel types.
Finalist and People's Choice – How wide, how much: An economic/ecological tradeoff model for riparian buffers
James Malcher, Deakin University
Vegetated riparian buffer zones are widely regarded as a best-practice strategy for protecting waterways. This project models the ecological and economic outcomes when land adjacent to waterways shifts from pasture to revegetated riparian buffer.
Building knowledge in waterway management
Winner – Hydraulic modelling of pile field bank stabilisation to improve design
Alluvium Consulting, Australian Government's Reef Trust (Department of Climate Change, Energy, the Environment and Water), Great Barrier Reef Foundation, HydroNumerics Pty Ltd
This project combined the latest river restoration science with advanced hydraulic modelling to explore improvements to the design of timber pile field groynes. The outputs of the study will result in more cost-effective sediment reduction programs that improve the health of the Great Barrier Reef.
Finalist and People's Choice – Building Knowledge of Polystyrene Pollution in the Birrarung (Yarra) River
Yarra Riverkeeper Association, Cleanwater group, Department of Environmental, Land, Water and Planning (Victorian Government), Parks Victoria
The Yarra Riverkeeper's polystyrene pollution project (phase 2) built the state of knowledge of polystyrene pollution in the Yarra, Birrarung River by quantifying the relative contribution of potential sources of pollution and identifying solutions that should be implemented to reduce pollution. Click here for more info.
Finalist – Managing boat activity: A novel River Murray drone study with broad implications
Streamology, NSW Soil Conservation Service (SCS), NSW Department of Planning and Environment (DPE), Murray Darling Basin Authority (MDBA)
World first study using drones to assess bank erosion from sub-daily movements of boats and river operations. The approach signals a new phase of monitoring using drones to build knowledge and improve management of river operations and recreation, preserving ecological, community and cultural values. Click here for more info.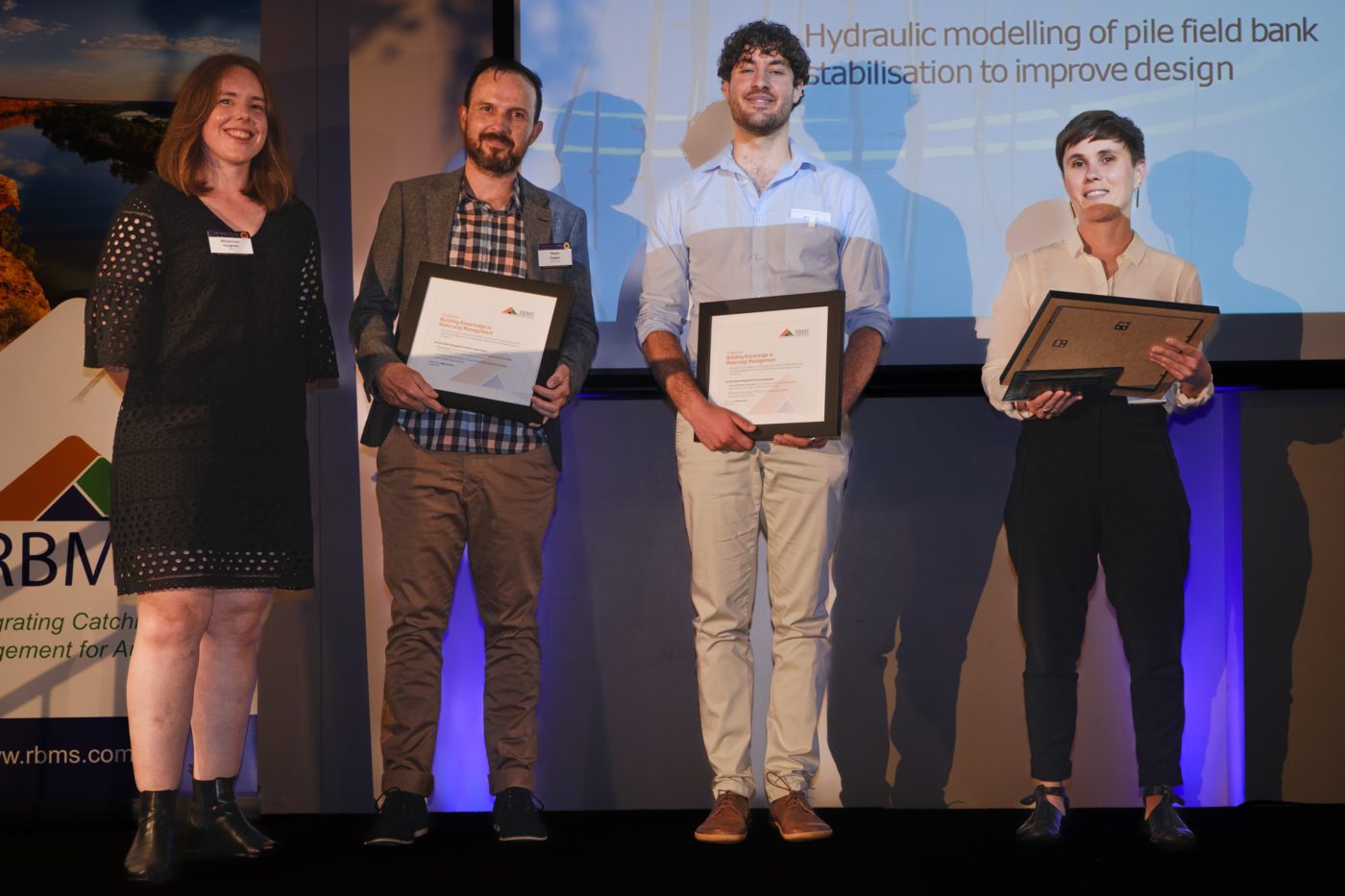 The Streamology Award for
Innovation in waterway management
Winner – Koondrook Weir Fishway
North Central Catchment Management Authority, Department of Environment, Land, Water and Planning (DELWP), Goulburn Murray Water (GMW), Victorian Environmental Water Holder (VEWH), Jacobs, Arthur Rylah Institute, KarlTek, S&R Construction, Barapa Barapa nation
For a century Koondrook Weir was a barrier to native fish migration, Koondrook Fishway now connects 140km of habitat in Gunbower Creek for the benefit of native fish recovery. Innovative design and construction methods were applied to succeed in a challenging and culturally sensitive environment.
Finalist – Modelling the social and economic value of river flows in Geelong
RM Consulting Group (RMCG), Corangamite Catchment Management Authority (CMA), Hydrology and Risk Consulting (HARC)
This novel approach used a combination of hydrological, water quality and socio-economic modelling to examine the value that the Barwon and Moorabool Rivers provide to the community of Geelong, and the importance of river flows to supporting these values under a range of climate scenarios. Click here for more info.
Finalist – Reimagining Tarralla Creek  – A waterway transformation project
Melbourne Water, GHD, Maroondah City Council, DELWP
Daylighting Tarralla Creek has created a health and "wellness heart" for Croydon by providing a wetland and a series of paths, boardwalks and crossing points that connect the community to water, biodiversity and activated open space for improved wellbeing outcomes. Click here for more info.
People's Choice – Johnstons Creek Naturalisation
Sydney Water, Diona Pty Ltd, Thompson Berrill Landscape Design Pty Ltd
Johnstons Creeks' decaying concrete banks are gone, replaced with innovative naturalised stabilised banks, native plants, sandstone walls, meandering rock channel and tidal pools, creating an asset life of over 150 years, which now supports a vibrant estuarine, ecological and cultural environment. Click here for more info.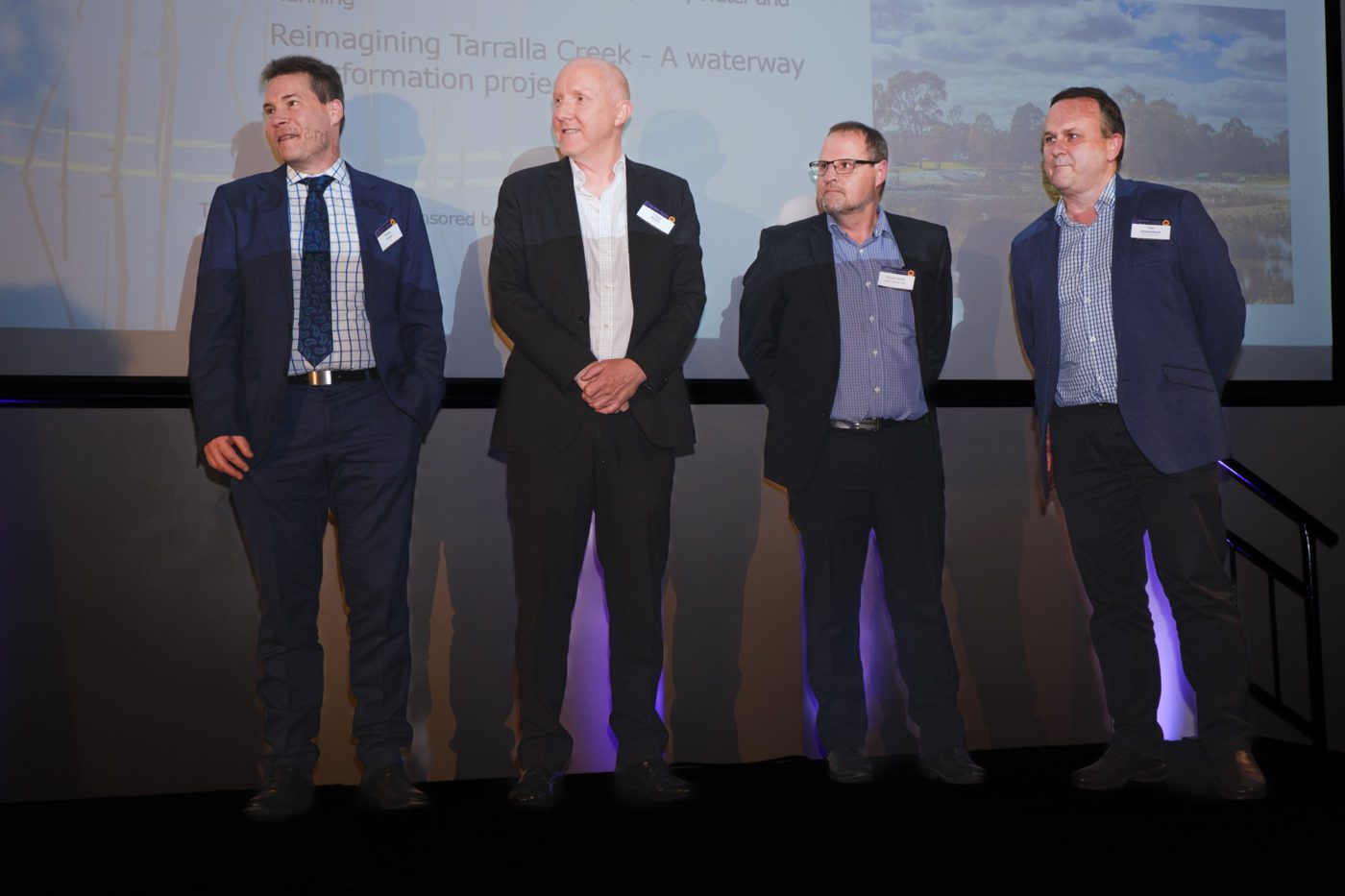 The Jacobs Award for
Outstanding waterway management project
Winner – Toorale Water Infrastructure Project
Alluvium Consulting, NSW Department of Planning and Environment, NSW Public Works, Toorale Joint Management Committee (which includes the NSW National Park and Wildlife Service and the Kurnu-Baakandji People), NSW Department of Primary Industries (Fisheries)
The Toorale Water Infrastructure Project involved the design and construction of a series of fishways, improving flow capacity and providing passage for native fish species on the Warrego River in Toorale National Park and State Conservation Area, near Bourke NSW. Click here for more info.
Finalist – Mary River recovery
Alluvium Consulting, Mary River Catchment Coordinating Committee, Burnett Mary Regional Group, Seqwater, Sunshine Coast Council
Alluvium, Mary River Catchment Coordinating Committee, Burnett Mary Regional Group, Seqwater and the Sunshine Coast Council have worked together to restore almost 5 km of Mary River frontage. This has led to a significant improvement in river health. Click here for more info.
Finalist – Cudgewa Creek Fishway Design and Construction
North East Catchment Management Authority, The Victorian Department of Environment, Land, Water and Planning, Traditional Owners, Water Technology, Ivor Stuart, Victorian Fisheries Authority (VFA), Arthur Rylah Institute
The Cudgewa Creek Fishway project involved the design and construction of a suitable fishway arrangement following the 2019-2020 'Black Summer' bushfires.  The project provided unimpeded fish passage for all species of native fish from the Murray River upstream into Cudgewa Creek. Click here for more info.
People's Choice – Melbourne Sediment Ponds Rapid Bathymetry Survey and Desilting Prioritisation
Water4Good, Melbourne Water Service Delivery and Asset Management Services Teams, Carew Environmental, WaterInsites, Water Technology
Ensuring Greater Melbourne sediment ponds are cleaned out is critical to maintain its function and protect our waterways and bays from sediment and its associated pollutants. A novel rapid bathymetry assessment informing desilting programs prioritisation across an asset base of 580 sediment ponds. Click here for more info.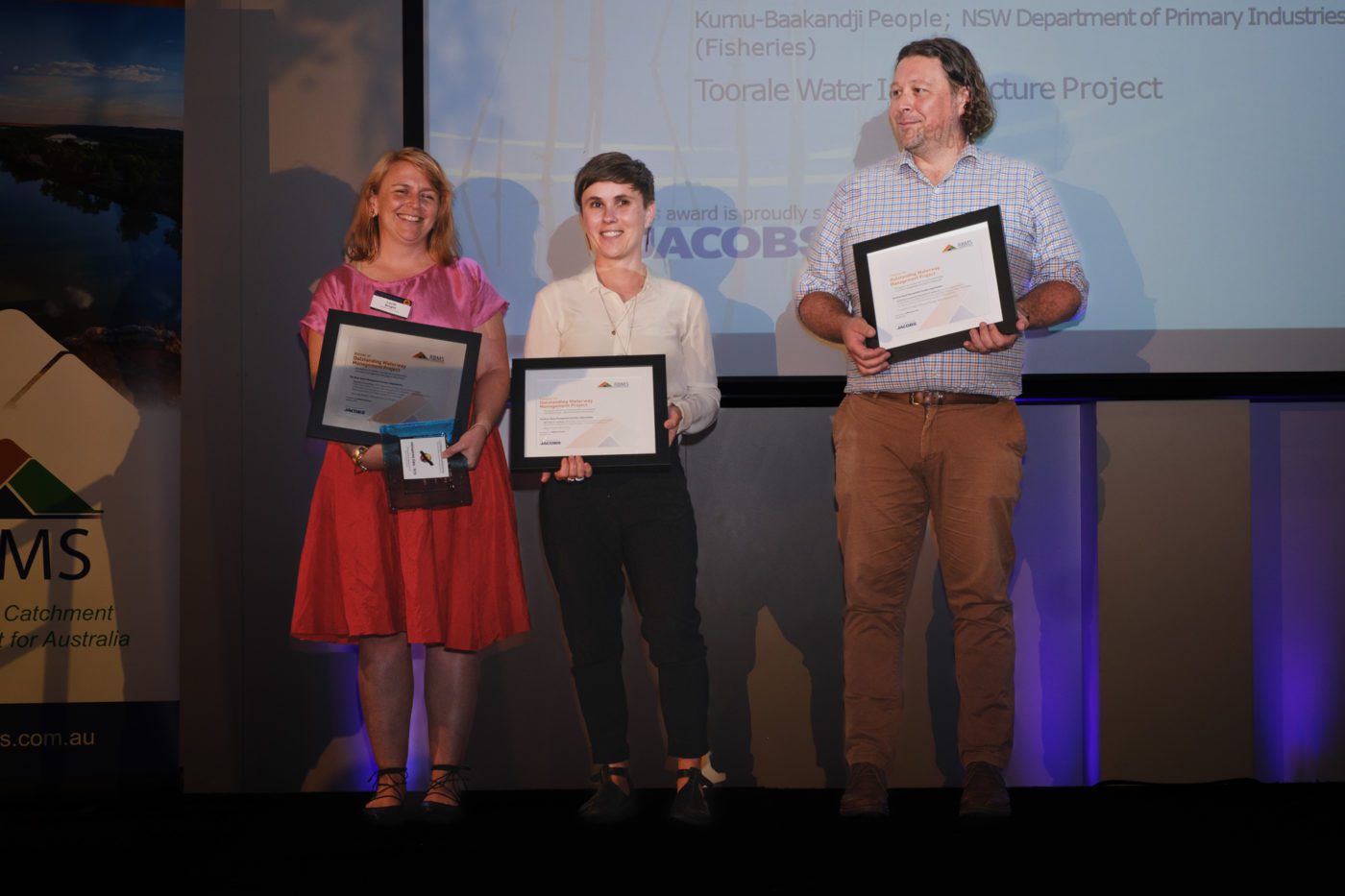 Thank you to our generous sponsors
Gold Sponsors
RBMS Awards Gala Organising Committee
Kathy Russell (Chair) – University of Melbourne (VIC)
Ali Miller – Water Technology (SA)
Rhiannon Hughes – Soil Conservation Service (NSW)
Penny Rogers – Melbourne Water (VIC)
Janice Taylor – Victorian Environmental Water Holder (VIC)
Ben Pearson – Hydrobiology (QLD)
Jacqui Lloyd – Department of Environment, Land, Water and Planning (VIC)
Event Agency – Evise